Union Lido

in Italy







Union Lido is a five star holiday park and the first pioneer of open air tourism in Italy. It's passion and commitment to providing the ultimate in camping luxury has resulted in it's undisputed title as one of 'Europe's No1 holiday destinations'

Stroll around this amazing park, enjoy the sights, sounds and if your lucky, the smells of over 15 restaurants, bars and buffet places, all designed to entice you in and get you to enjoy the best Italian flavours! Union Lido is not just a holiday, it's a Bolero Holiday!



The history of Union Lido
The Union Lido holiday park opened in 1955 and over it's years in the holiday industry has grown into a magnificent holiday village in Italy, attracting over 16 million people from all nationalities across the world.

Union Lido has always been a leader in modern open air tourism and continues year after year to provide new and exciting ways to make you want to come back every year!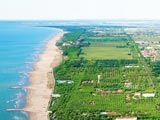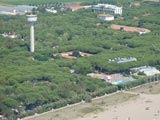 Throughout the years, the Union Lido team have built up an understanding of each individual person's needs and expectations of the perfect holiday which has resulted in year by year improvements to the park, introducing new facilities and expanding current attractions.

Union Lido makes sure that you experience a welcome return each year and hopefully a new pleasant surprise to make your holiday even more enjoyable.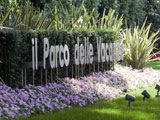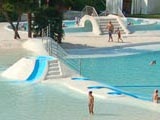 Outstanding in it's facilities, outstanding in it's cleanliness and outstanding in its location on the Adriatic coastline. Union lido offers a visually pleasing blend of modern and welcoming facilities which balance nicely within the natural holiday park setting.



Union Lido & Bolero Holidays

Bolero was the first tour operator to offer holidays at Union Lido, and over the last 30 years has stood as a respected member of Union Lido ever since, which is one of the reasons why we have one of the most sought after positions at Union Lido.

Take a look at the location of the Bolero Holidays area which is located centrally on the holiday park providing easy access to all of Union Lido's facilities, all within short walking distance. Also, we are able to tell customers that wherever they are on the park, if they look up for the impressive Union Lido water tower, they can always find their way back to Bolero Holidays!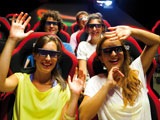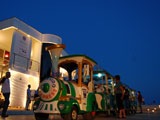 What makes Union Lido unique is personal to each individual visitor. The holiday park can feel like a living thing, being able to re-configure itself for each persons needs and wants. In a family of 4 or even 5 or even 6, you may have 6 unique personalities, and possibly 6 different ways to enjoy a holiday.

For Mum, the Union Lido wellness centre may be her biggest attraction, with beauty treatments, relaxing spa and water therapy sessions that help to relax or energise body and mind, whereas Dad wants to enjoy the thrill of Scuba Diving and enrols in the Union Lido classes available.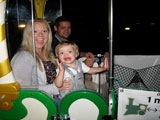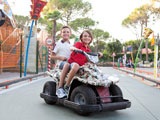 Perhaps the kids want a swimming pool complex with fun slides, or a lazy river so they can swim at the speed of a superhero and the youngest child wants to dance and makes sure everyone can see her strut her funky stuff at the Baby disco in the Union Lido amphitheatre. Maybe the grandparents joined you and they just want to sit out and absorb some Italian rays whilst reading the newspaper or that risqué romance novel.

The holiday park wants you to enjoy yourself and offers so many differing ways to do it, chances are you will need to come back each year to make sure you get to enjoy them all!

We could talk the hind leg off a donkey about Union Lido, but the best way to showcase how fantastic this holiday park truly is, is to read what other customers say about it. We are proud to have one of the best reputations on TripAdvisor and you can read about some of them on our reviews page, or visit the website itself to see what everyone thinks!



Union Lido - What's There?

A holiday at Union Lido can be as relaxing or energetic as you want it to be.

The Union Lido holiday park has its own private, soft, sandy beach and spectacular pool complexes, both only a short amble or stroll from the Bolero area located centrally in the holiday park.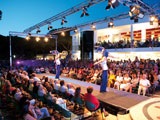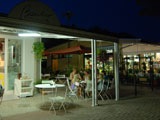 Culinary needs are superbly catered for, with diverse choices, ranging from colourful fruit and vegetable shops and supermarkets which stock all you require, through to pizza and multiple take away venues and a multitude of restaurants and buffet bars where you can either enjoy a family meal, a cosy romantic dining event or even a celebration where you can choose to 'dine in style' for a special occasion.

Whatever you decide, Union Lido will provide.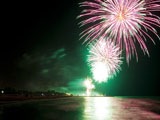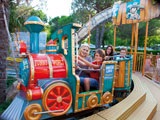 Just walking around Union Lido is a joy, especially if you enjoy nature and being lost in your own thoughts against a backdrop of relaxation. The beautiful flower gardens in the pedestrian areas of Union Lido greet you with a sea of colour and this attention to detail makes it apparent that this is more than just an exceptional "Holiday Park" which is thoughtfully cared for and extremely well managed, it is a high standard that other holiday parks should always aspire to reach.

Many will never find a need to leave the holiday park!

Once you realise that Union Lido is situated on a truly beautiful Venetian stretch of pristine and Blue Flag awarded coastline, and has very easy access to the romantic and historic city of Venice and it's intriguing islands of Murano, Burano & Torcello (The inspiration for our mobile home names) you may wish to go and explore this attractive and welcoming part of Italy. You can also visit the main resort of Lido de Jesolo with its long stretch of sandy beach, shops and bustling night-life via the ever present and reliable public transport system.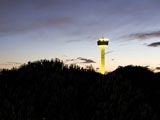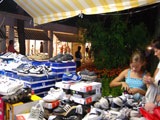 Union Lido is undoubtedly a truly wonderful holiday park and it would be very hard to find something better in Europe.



What does a Union Lido

holiday offer?

Many people may consider Union Lido to be a campsite in Italy, because it has pitches for tents, caravans and motorhomes, but for those that have been there regularly over the years, we are confident they would say it is more of a holiday village. Many people at Union Lido can spend two weeks of their holiday never needing to leave the holiday park, enjoying the pool complexes and beach daily, having a spot of lunch at any one of the many bars, cafe's and restaurants located throughout the holiday park during the morning / afternoon and evening.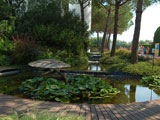 Even spending some time outside your air-conditioned two or three bedroom Bolero mobile home with a selection of UK and European food choices can be purchased from the supermarket (either at the supermarket almost on your doorstep near your Bolero mobile home or at the main Union Lido shopping square where the large deli and bakery will tempt anyone in!) This option offers a relaxing way to enjoy your lunch alfresco!

Union Lido is a large park and due to the Bolero location, you will never find anything at too great a distance. Within 3 minutes you could be popping your towel down on a sun-lounger at one of the pool complexes or add another 60 seconds and you are on the soft expanse of private sandy beach, where a large clear blue sky and a passing ice-cream vendor will cater for your sun worshipping needs!

From opera to rock concerts, at Union Lido evening entertainment is always assured.

When you arrive at Union Lido, you receive a copy of the My Weekly entertainment programme which will tell you more about the activities and events throughout your stay. This opens up many different types of holiday experience, from aqua aerobics on water-bikes which will test even the most hardy cyclist to an evening with fine wine and musical artists as the sun sets behind the glistening Adriatic sea. You will also find that many of the events are family orientated so the kids can always get involved!



Why not visit us on

Facebook

or

Google +



Next Stop...

Union Lido Aqua Parks