Union Lido
Aqua Parks






At Union Lido you can experience two fantastic swimming pool complexes.

Aqua Park Laguna


All are only minutes away from the Bolero area and all offer a fun filled experience for you and your family. At The Union Lido Aqua Laguna Oasis you will be instantly transported to a tropical paradise as you set foot on this fantastic soft sand covered swimming pool complex, complete with slides, a wave pool and the new 'Vortex' introduced in 2017. Aqua Laguna also has the distinction of being the first of its kind on a holiday park in Europe.

For those who want to relax, why not enjoy the gently sloping pools or let the bubbles of the spa pools caress your skin and buff your tan under the warmth of the Italian sun.

Small children will love the imaginative aqua play fort with slides, fountains and water powered activities ideal for all ages. Smaller water slides that cascade softly into shallow waters, perfect for young and older children and even adults can enjoy swimming under a waterfall into the spa grotto for some relaxation amongst the bubbles! Why not visit the wave pool, with 2 differing pools, one with shallower waters for younger children, and one with deeper more active waves for older children and adults. See who can ride the wave ball the longest!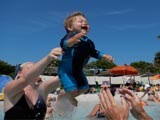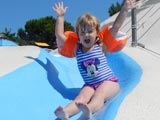 The water park also has a cafe / bar where you can get hot and cold drinks and snack, all whilst relaxing under the shade of a parasol spraying a cool mist into the air above you.

For the adventurer amongst you, the Aqua Laguna water-slides at Union Lido are great for children and adults. Take on the Tiki twin slide (pink) and compete with your family to be the first to the bottom, or ride the Vortex (Green) and enjoy a truly unique waterslide experience as you ride an inflatable into a giant water bowl, where water will spin you around before taking you down a final slide into the shallow waters at the end of the slide. Watch out for sharp-shooters as they shower you with water cannons from the viewing platform!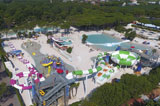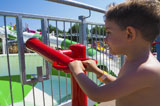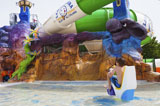 A fun addition to this tropical paradise only minutes from your Bolero air-conditioned mobile home accommodation.



Aqua Park Marino


Within minutes, you will be placing your towels down on a set of sun-loungers at the Union Lido Aqua Park Marino swimming pool complex and choosing which fun activity to start with first! Maybe a small dip in the heated swimming pool for a couple of warm up laps.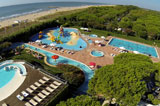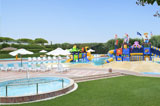 Follow this up with a relaxing float in the Aqua Park Marino lazy river where you can climb aboard your very own inflatable doughnut and gently float around a picturesque artificial river whilst the sun shines brightly overhead.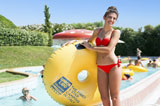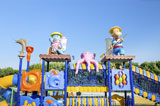 For smaller children, the large impressive rubber lined swimming pool section has small slides, water fort with interactive water features and plenty of undulating little hills for children to run up and down, and with it being soft lined and shallow, you are assured their safety is paramount.



The children's rubber lined swimming pool is heated!



Aqua Park Marino at Union Lido even has its own water slide, built into the corner of the pool, which is great for smaller children and big kids alike! Both the Aqua Laguna and Aqua park Marino swimming pool complexes at the Union Lido holiday park have additional spa pools for all to enjoy.

It's more than a pool complex, it's a family holiday experience not to be missed!



Next Stop...

Union Lido Private Beach



Why not visit us on

Facebook

or

Google +

Back to Top | Home