Union Lido
Exclusive Beach






Only a short walk from the Bolero area is the long stretch of private beach.



This beautiful stretch of sand at the Union Lido holiday park is over 1kilometre long, exclusively used by Union Lido residents and kept pristinely clean to the Blue Flag standard.

We have recently introduced a Virtual Tour from the beach to Bolero Holidays, and even inside the

Torcello

and

Venezia

mobile homes.

The soft sandy beach is always a favourite destination with everyone enjoying soaking up the sun or relaxing under the shade of a parasol. The beach gently slopes into the warm shallow waters of the Adriatic making bathing safe for all ages and, of course, as with every water related location at Union Lido, lifeguards are always on duty, keeping a watchful eye on bathers.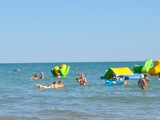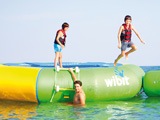 Various activities are available to further enhance your enjoyment, including pedalos with fun slides for those who enjoy a good dive or slide into the warm waters of the Adriatic, a windsurfing school for the adrenaline hungry water sports enthusiast, sub-aqua diving school for those who enjoy exploring below the water, and a beach games area with volleyball and boules for the more active speedo wearing holidaymaker.



For The Kids!

Over the last few years Union Lido has added even more fun to the beach, including a large play area for children with slides, play fort and plenty of small toys for children of all ages, and in the sea, you will find the giant inflatables for those daring to take on the obstacle course, making their way across... will they reach the end of fall into the warm waters of the Adriatic and start again!

In 2014 and 2015 the Union Lido beach became home to new play forts along it's length, perfect for children of all ages. Parents will be hoping their child needs assistance climbing up just so they can get to enjoy this fun looking addition to the Union Lido private beach!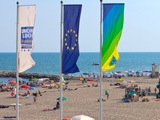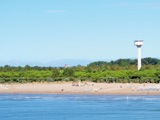 Of course, the best thing about the Union Lido beach comes from its sheer size and space to enjoy your own private sun worshipping location. Why not hire a sun lounger from Union Lido using their own Beach Card or use our Rumble Truck service to take your own equipment down to the beach. Either way, you will enjoy yourself at the Union Lido beach, again only a short walk from your Bolero holiday accommodation.



Enjoy a refreshing beverage

To compliment your experience whilst crisping up nicely in the sun or frolicking in the sea, Union Lido has several beach bars located within easy walking distance (don't forget your flip flops on the hot sand) to tempt you away from your sun worship for a cool beverage, be in soft or infused with a little alcohol.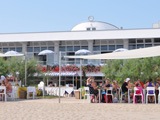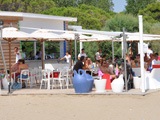 A relaxing place in or out of the shade, where you can sit and enjoy some of the finest cocktails, familiar refreshing favourites such as coke or fanta and even enjoy some wonderful snacks, including fresh local flavours, bruschetta, fries and sandwiches.

Of course for the children and child at heart, along the beach, keep your eyes open for the ice-cream van! The perfect way to cool you down on a warm Union Lido day!.

Why not re-visit these bars on an evening, to relax as the sun sets behind a sparkling sea and thousands of stars litter the clear night sky, a cold or warm drink in your hand, some music to relax both body and mind and a new memory is made that reminds you why you picked Union Lido.



The Blue Flag Award

The Blue Flag award requires strict standards on water, land and vegetation. This prestigious award is only granted to beaches of the highest quality and the family camping holiday park Union Lido is proud to have repeatedly won this award.



As the Bolero accommodation is only 150m from this wonderful beach, every visit is easy and completely hassle free. You will be on the beach within 4 minutes!



Next Stop... Union Lido Spa



Why not visit us on

Facebook

or

Google +

Back to Top | Home