You can now view / download the new week life events brochure from Union Lido for the week commencing 13th - 19th August 2018 on your Bolero Holiday.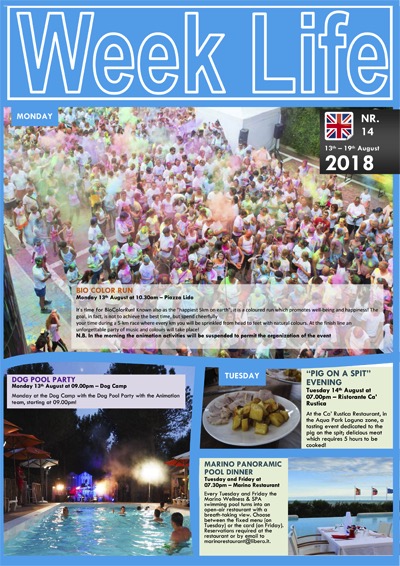 On Tuesday 14th August and Friday 17th August, the Marino Restaurant turns into an open-air dining experience from 19.30m taking in views of the Adriatic's endless horizon.
On Wednesday 15th, head to the West Beach for some beach games, and tournaments including volleyball and football, or why not take part in the Electric Run and LED Show which brings a new and exciting illuminated path run using vibrant and colourful LED lights to make the experience very futuristic and atmospheric, starting at 20.30 from Piazza Lido
On Friday 17th you can enjoy a Nutella Party at CasaVenezia from 19.00, ice-cream and nutella! yes please!
On Sunday 19th August, you can enjoy the magic of sand art with Visioni D'incato at Piazza LIdo from 20.30. Sand, music, art and special effects rounds off yet another amazing week at Union Lido.
Find out more about these events and many more taking place this week on your Union Lido Bolero holiday!

BACK TO MAIN UNION LIDO | BOLERO NEWS