Bolero Holidays
Torcello Mobile Home


Bolero is pleased to offer you our new and improved range of mobile homes for your Union Lido family holiday.

We decided to name the mobile homes to the Sorrento, Torcello, Venezia, & Murano which we think makes it easier to identify the mobile home based on the number of bedrooms available and the layout of the mobile home.

We have recently introduced a Virtual Tour of the Torcello mobile home, with an extended walk to the Bolero Reception office and even as far as the Union Lido Beach, showing just how close the Bolero area is to the main attractions of Union Lido.

Torcello Mobile Home Video
All Bolero mobile homes are fully air-conditioned at no extra cost

The second largest mobile home in the Bolero accommodation family and a very popular model with everyone, The

Torcello

mobile home is a wider mobile home, offering mid to larger families more space to enjoy their mobile home holiday in Italy at Union Lido. The beds are slightly wider in the second and third bedrooms and the double bed in the main bedroom is slightly longer to make full use of the extra space the mobile home offers.

The Kitchen in the

Torcello

has a four burner gas hob, storage space, sink and drainer as in the

Murano

&

Venezia

mobile homes. The fridge/freezer in the

Torcello

is freestanding and has more compartment space to store yet more of that precious cool liquid on hot sunny days!

The central lounge has a large seating area around a table with stools. To compliment your enjoyment, the TV & DVD Entertainment Package is added to the mobile home inventory list free of charge. Combine this with our large DVD collection for added entertainment. The toilet and shower room are separate in the

Torcello

as shown in the layout plan.


Torcello Gallery
The three bedroom Torcello is the largest 3 bedroom mobile home Bolero provides at Union Lido, with one double bedroom, two twin rooms and a separate toilet and shower, the Torcello mobile home at Union Lido is ideal for everyone!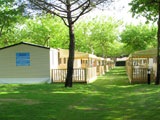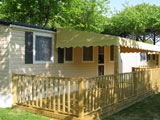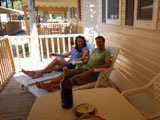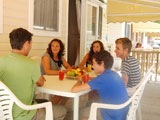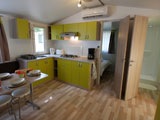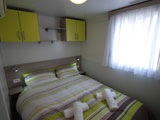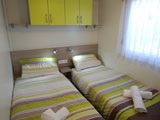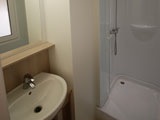 Similar to the

Venezia

, &

Murano

our

Torcello

mobile home at Union Lido, Italy has a covered wooden terrace outside along with furniture to socialise with friends or enjoy a meal 'al fresco'.

Car parking is also available at the end of each mobile home row. This allows us to maintain a safe child-friendly environment immediately outside your mobile home.


Search (£) GBP Holiday Dates
Search (€) EURO Holiday Dates
Accommodation Inventory
Bedrooms
Pillows
Mattress protectors
Coathangers
Safety Deposit Box
Hairdryer


Kitchen / Living Area
22" Flatscreen TV & DVD
Electric toaster
Microwave oven & one microwave bowl
Fridge Freezer
4 Burner Gas Hob
Electric kettle
Electric coffee maker
Teapot
Sugar dispenser
Salt & pepper
Milk jug
Fruit bowl
Salad Bowls
Draining rack
Washing up bowl
Washing up brush
Tea towels
Clothes airer
Fire protection blanket
Bucket & lid
Large brush
Dustpan & brush
Chopping board
Tray
Frying pan
Large stock pan
Pans
Colander
Measuring jug
Plastic fridge jug
Cheese grater
Large plates
Small plates
Cereal bowls
Coffee mugs
Small cups and saucers
Wine glasses
Tall glasses
Childrens plates
Childrens bowls
Childrens beakers
Tin opener
Bottle opener
Scissors
Potato peeler
Salad bowl and serving spoons
Garlic crusher
Egg Cups
Fish slice
Spaghetti server
Straining spoon
Soup ladle
Bread knife
Carving knife
Small knife
Knives
Forks
Large spoons
Small spoons
Childrens knives
Childrens forks
Childrens spoons
Cutlery tray


Bathroom
Showermat
Toilet brush


Outside
Patio table
Ashtray
Chairs
Candle holder
Sunlounger



Why not visit us on

Facebook

or

Google +



See our

2018 prices

or

Check availability

for your preferred holiday date at Union Lido



Back to Top | Home