Union Lido
Fun & Entertainment


Creativity, fantasy, freedom of choice, Union Lido delivers its entertainment with style, panache and a wow factor.


We know from experience that if the kids are happy, the parents are happy. The all important kids club is the first stop for any child. Union Lido runs a weekly kids club with activities for children of all ages, and Bolero showcases the events each day on the notice board, so parents and their children can decide which of the activities they want to enjoy! The Union Lido fun club offers a multitude of crafts and games designed specifically for differing age groups. The kids love the sand castle building competitions, treasure hunts and games. The 'Baby Disco' organised by the Union Lido Fun Club is a grand event held at the Union Lido Amphitheatre where the kids enjoy a great evening of music and dance. (Parents can join in too!)


Entertainment



Morbidosi (Inflatable World)



Lets talk about the Morbidosi Inflatable park, located close to the Aqua Laguna swimming pool complex. It's a place of pure fantasy when seen through the eyes of a child and a place of jealousy when seen through the eyes of an adult as it's only for the kids!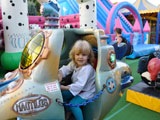 Huge inflatable slides, play forts and bouncy castles, soft ball pits, a race track with small pedal bikes and even some toys for smaller children.

It's a place where your children can leave behind the world they know and enter into a place of pure fun. As most of the apparatus is soft play, you will be confident that your child is in a safe environment. The only concern you will have is the fight with your child when its time to leave.

For children who enjoy sport, the varied activities on offer will keep them happy all day. Football, tennis, horse riding, archery, table tennis, mini golf and swimming, as well as the Union Lido sports rink which offers volleyball, basketball and hockey, will ensure your children can enjoy their favourite sport.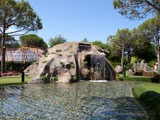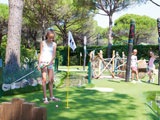 For children who love technology, the motorised go kart track is not to be missed and the games arcade near the mini golf course is a noisy happy place where children love to spend time. If your child is a fashion diva, the Union Lido model school offers all the fun of being a model, from trying on outfits to being the centre of attention on the catwalk. At the Union Lido musical school, children can take part in preparing and performing a musical for all the Union Lido guests to enjoy at the Amphitheatre.



The Union Lido Road Train



Why walk around the Union Lido holiday park when you can ride in style aboard the Union Lido Express train. Kids will love the gently moving road train service that makes its way around the holiday park, allowing you to wave and high five everyone as it passes. (Please note that a high five is mandatory and should be applied to as many hands as possible as the train passes. For those on the train, please be upstanding and extend your hand to receive a high five - Bolero cannot be held responsible for how awesome this feels)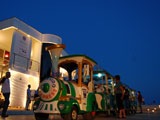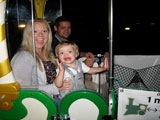 Natural Park Setting



The natural forestry setting opens up the woodland areas for some imaginative play. The Union Lido adventure play park with slides, swings and a trampoline is a great way for the kids to have fun and get some exercise and when the kids find the terrapin pool, their natural curiosity will add to their holiday enjoyment as they watch the small reptiles basking in the Italian sun or swimming around the pools.

Union Lido offers a never-ending freedom of choice, to explore activities that offer creative family fun, healthy sports and musical events to maximise your holiday enjoyment.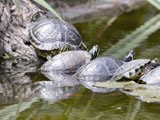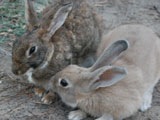 Fitness

Sports are a big part of the Union Lido mobile home holiday experience and the sports centre has a myriad of activities for young and old. From the football and tennis clubs to a driving range, practice bunker and putting green to help improve that swing.

Aerobics either in the water or on the beach will de-stress and energise your body and mind or maybe you would like an underwater adventure with lessons provided by the diving school. On the beach you can join the windsurfing school if you are feeling energetic or hire a pedalo and gently float across the waves.

The natural forestry setting at Union Lido provides excellent woodland activities, including a jogging circuit through lush vegetation or an obstacle course for those who like more action.

The fitness choice at Union Lido offers health, happiness and a feeling of well-being.


Music

If music be the food of love, at Union Lido your happiness is guaranteed. Maybe one night you would prefer to listen to the soft sounds of a male voice choir as you are relaxing by the fountain in the main square with a glass of wine, or maybe you want to kick off your shoes and dance like John Travolta at the Grease Extravaganza. The range of music on offer is wonderful, emotional, and always entertaining.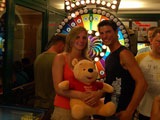 When you are out and about at the bars, you will no doubt enjoy some live musical entertainment whilst you relax with family and friends. Union Lido loves music, loves entertainment and loves knowing that you are enjoying yourself all of the time.

When Union Lido mixes music with fireworks, the sky dances with a thousand colours and we know that memories are made from this.

At certain times of the year, families and couples who holiday at Union Lido can experience the 20 minute firework extravaganza on the beach, choreographed to music. This magical display fills the sky with lights and will leave you wanting more.


More

For fashion icons, the Union Lido fashion show will let you enjoy some of latest Italian fashions to grace a catwalk. Maybe you're a film buff? Enjoy a movie or two at the Union Lido cinema showing films several times a week or head off the park and feel the wind in your hair and the sun on your back, as you pedal through tranquil lanes of the Cavallino peninsular and the Venetian Lagoon with bike hire available from Bolero Holidays.



Next Stop...

Union Lido Food and Drink



Why not visit us on

Facebook

or

Google +

Back to Top | Home